The Best Classroom Camera Solution to Get You Back to Your A Game
Educators, got questions? VIEWpath has answers. Ace this school year with our innovative classroom camera setup.
You know teachers already had enough to juggle: lesson plans, effective instruction, behavior management, student assessments, parent communications, professional development, faculty commitments . . . just to name a few of your responsibilities.
Then without warning, COVID-19 attacked your to-do list, making it exponentially harder and longer. You had to frantically figure out how to convert to an online classroom, completely revamp lesson plans, accommodate both in-person and remote instruction, connect in a helpful (and meaningful) way with students, and troubleshoot every imaginable tech issue.
And these were just the logistics! You likely felt stressed from social, emotional, financial, familial, and maybe even physical burdens as well.
Even though you've taken a deep dive (or perhaps a forceful shove) off the gangplank into COVID-induced remote learning and have managed to stay afloat, the frustrations continue.
What if a user-friendly all-in-one technology for school had been implemented before the COVID storm hit? And is it too late for some miracle like that to take effect now?
Here's some really great news—maybe even the best news to come out of 2020!
Such a lifesaver exists.
Audio Enhancement's VIEWpath® (Video Interactive Education Window) solution simplifies all audiovisual tech so you can climb out of survival mode and get back to focusing on what you love.
We know you probably have a zillion questions about simplicity, efficiency, management, and delivery, so we have you covered with our own teacher-style Q&A!
Q: What exactly is VIEWpath and why is it one of the best classroom camera systems on the market?
A: Audio Enhancement's VIEWpath solution is a remote and blended learning package that streamlines a classroom's audio and video content. Designed specifically for educators, it enables you to easily create, manage, and deliver lessons to students who are learning remotely or at school.
Create
With an intuitive interface, VIEWpath allows you to record lessons not only from your installed or portable classroom camera, but also from your personal webcam or mobile app.

Manage
Quickly upload your videos, then organize them with metadata and in collections.
Deliver
Best of all, keep your students engaged no matter which way you present content: live-streamed video, recorded video posted to your LMS, or downloaded video on a USB when streaming isn't possible.
With the VIEWpath Live feature, which allows you to take advantage of popular virtual meeting platforms, remote students participate in real-time classroom discussion and don't get left out—or left behind.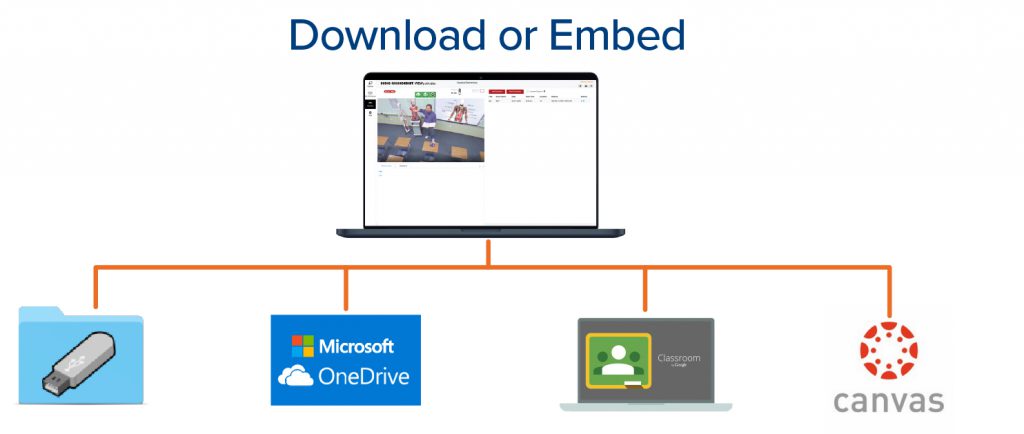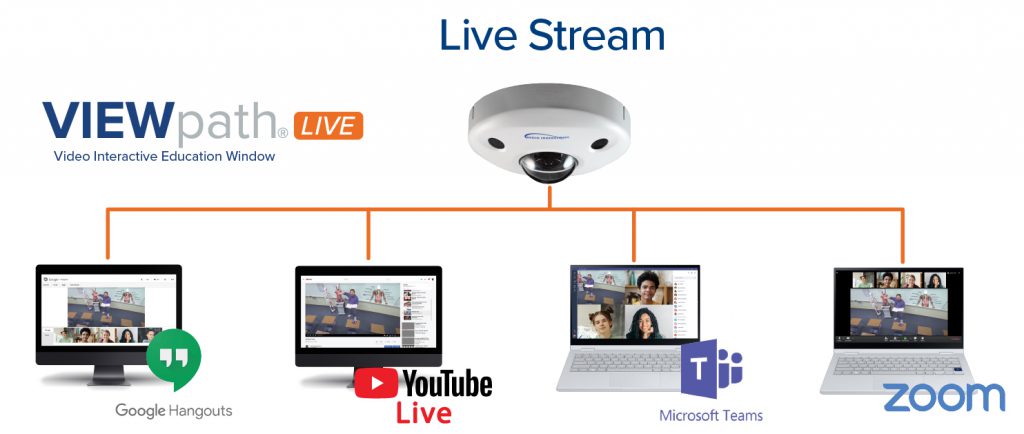 Q: What other problems can VIEWpath help me solve?
A: We've done our homework! Here are some of our well-researched answers.
Accessibility inside or outside your classroom
You no longer need to stand rooted to the floor so your remote students can see you. Our VIEWpath cameras allow you to freely move around your classroom. COVID has enough restrictions already—cornering you in your own classroom shouldn't be one of them!
Continuity for your face-to-face and virtual students
The unpredictability of COVID has disrupted the predictability of American education. Whether your school has adopted a fully remote, fully in-person, or hybrid schedule, there are significant numbers of students missing school at any given time, either because they're staying home out of precaution or quarantining out of necessity.
VIEWpath provides remote learners the same instruction as those who are physically able to attend school in the classroom. No more replacing teacher instruction with a packet of worksheets! Even more important, teachers themselves can teach remotely if necessary.
Consistency for homes and schools
Another major hurdle for schools and families alike is the lack of consistency within school districts when it comes to online classroom configuration.
The result? Different remote learning resources used across schools and families and platforms—and every parent-turned-homeschooling-director's nightmare! Cue the frazzled parent memes.
With VIEWpath, everyone—from teachers, parents, siblings, superintendents, curriculum directors, tech directors, facility managers, and principals—can finally be on the same streamlined page.
Q: Do you have any tech solutions along with classroom cameras that can make teaching in a mask less miserable?
A: Glad you should ask. Yes, we do!
As you know all too well, wearing a mask has a huge impact on classroom communication—and it's not a positive one. An Audio Enhancement expert says, "Ensuring every student receives proper volume and clarity of instruction and can understand what is being taught can already be a challenge with the normal background noise of a classroom environment. With teachers needing to speak from under a mask, classroom audio solutions become an essential aid in student education."
Luckily, our distributed audio solutions that allow for multiple speakers throughout a classroom can drastically help increase comprehension and decrease teacher voice fatigue.
No need to tolerate muffled mask voice again.
(See our research about how masks affect classroom communication.)
Q: What about other tech solutions for my students that can make learning in a mask less miserable?
A: We have those too.
Other products include a variety of speakers, the XD Student Handheld Mic, and even a fun and colorful ball Mic360 that promotes student participation!
Q: What's your best tip for teaching with technology, especially with a virtual classroom camera?
A: This one's easy. Simplicity!
We offer two VIEWpath packages, both of which deliver incredibly advanced yet user-friendly technology for school use. Whichever one you choose will make your life so much easier.
Installed Cameras
Audio Enhancement's installed classroom cameras allow remote students to see and hear their teachers giving instruction from any location in the classroom. They also make it possible for teachers to see the entire classroom and monitor and record multiple views.
VIEWpath Blend
Audio Enhancement's VIEWpath Blend classroom camera is an all-in-one audiovisual solution for the classroom: our audio system coupled with a portable camera (EduCamPTZ) that can pan, tilt, and zoom. With its adjustable height of over 8 feet, the camera can be positioned for a bird's-eye view of the classroom or lowered to focus on the teacher. Because it is freestanding and easy to move, teachers can choose the best angle for any given activity throughout the school day.
Setup is as simple as it gets, requiring only a network drop and a power outlet. With no installation required, you can start recording crystal-clear audio and visual content immediately.
Q: Was VIEWpath originally created as a camera for online teaching?
A: No, actually. Good question.
Developed in 2011, VIEWpath proved to be an effective tool for professional development and learning; teachers could record themselves for a variety of reasons: to review (like athletes analyzing game film), to promote best practices among faculty and teaching teams, and to use with instructional coaches or administrators during employee evaluations.
The camera could also be used to record video lessons for absent students or those who needed instructional reinforcement. For example, when a student was homebound for an extended period, VIEWpath was installed in his classroom so he could keep up academically. But VIEWpath wasn't frequently used for this purpose since remote learning wasn't a priority that most educators needed to think about. Yet.
Enter COVID-19.
Schools everywhere were shuttered and students sent home. Suddenly, this product, with 10 solid years of development under its belt, became a critical tool for remote learning. Our original VIEWpath solution has an installed 360° classroom camera. During the global pandemic, we developed a portable camera + classroom audio system called VIEWpath Blend.
Incredibly high demand is proof that VIEWpath Blend is a solution that educators desperately need.
Q: When can I stop wearing a mask when I teach?
A: We don't have an answer, but hopefully soon! One thing is certain, though—unlike face masks that we can't wait to ditch, the classroom camera is here to stay.
Experts have known for a long time that cameras can provide huge benefits to educators, and now with a surge of camera use in education, we're seeing how helpful—and even crucial—they are for students as well. Even when we can ditch our masks, we'll definitely be keeping our classroom cameras.
Q: Since VIEWpath is one of the best cameras for teachers, why did I not find out about it sooner?
A: Again, we have no answer for this one, but we're glad you're here now!
Let us help you streamline your classroom's remote learning resources and eliminate tech drama so you can focus on what matters most—your students' success. We're excited to show you how our innovative classroom camera systems and simple technology can change your professional life!
Q: I've needed VIEWpath Blend in my classroom since March 2020! How do I schedule a free demonstration with an Audio Enhancement representative?
A: Please discuss your interest with your principal or district leaders. Call 800-383-9362 or visit https://audioenhancement.com for more information.